The Challenge
The need for change
When Covid restrictions prevented her beauty therapy business from operating, out of necessity to replace her lost income, Jo Follows-Smith created her copywriting brand, The Word Woman.
However, when the beauty industry was allowed to open its doors again, Jo had a big decision to make. She had found copywriting to be fun, exciting, and an excellent way to spend her time and get paid for doing what she enjoyed. Rather than close it down, Jo decided to grow the business instead.
The natural step was to move into writing for beauty businesses, which led her to work with one of the biggest beauty companies in the UK.
Jo already had a brand and was building a reputation in her field and came to us with a need to get a simple site up as quickly as possible.
About The Word Woman
The Word Woman provides copywriting services and mainly works with businesses that have audiences with female energy. The Word Woman has been in business for two years and has written for solopreneurs, right up to 7-figure businesses that trade in over 20 countries.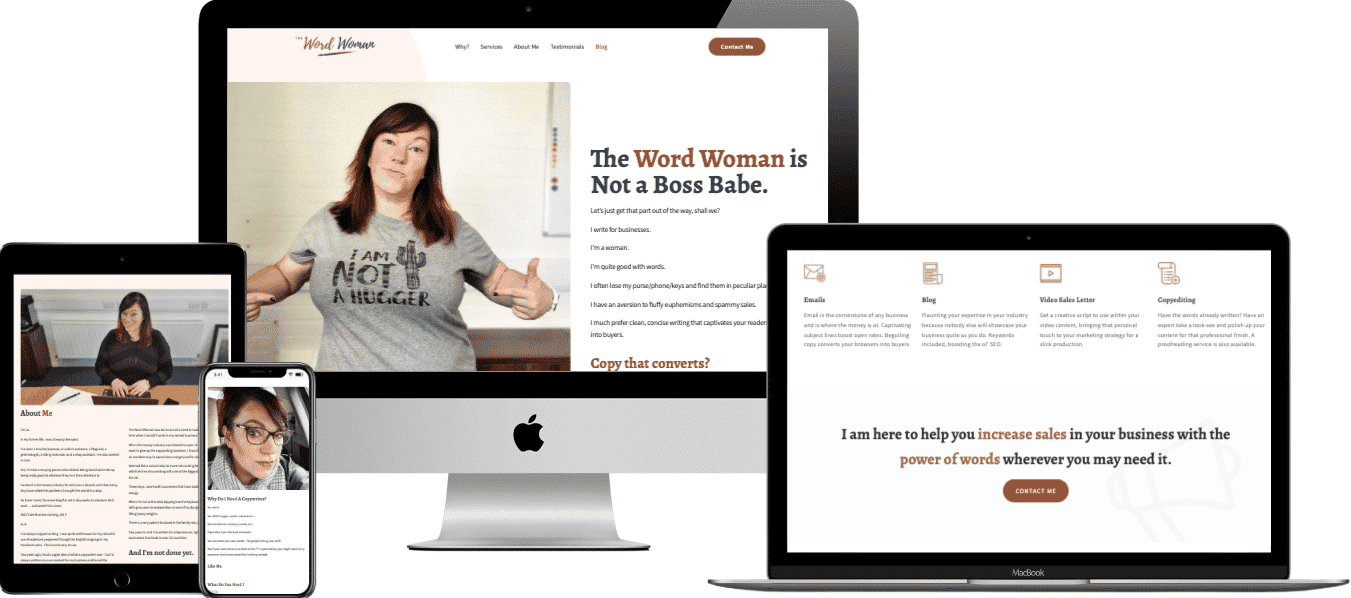 "I felt valued & supported throughout the entire process"
The Project
Structured delivery and ready-made components allowed for launch within 4 weeks of order
For simplicity and speed of execution, we recommended our Basic Website Plan which would provide Jo with a single-page site to match her brand. As a managed plan, she would have 30m of support time per month to make minor changes to keep the website in line with changes in her business.
As Jo had already created her content and we had a quality brand and assets to work with, the build progressed well as our structured delivery, and regular communication kept Jo in the picture, and key decisions were made quickly.
On our unveiling of the first draft Jo's feedback was simply "I love it".
With no major changes to make, QA and launch quickly followed, and we have already been discussing the next set of changes to the site, such as a blog.
Working with Jo was a joy as she had a clear vision and content ready at project start – too often a project stumbling block. This ensured the project flowed smoothly through the build process.
Craig Harffey, Technical Director
Highlights
Using the existing brand, we created and launched the new site within 4 weeks.
– Basic Website Plan perfectly matched the startup budget
– Rapid delivery facilitated by templated design
– Known costs with 12 months of management & support included
What The Word Woman SayS
There are many web-based businesses on the market which can be daunting. You think that they all just do the same thing – right? Well, I did, once upon a time.
GorillaHub came to my attention when I was in a bind.
I'd had a website for more than a decade so I knew what value it held for my business. But, as with many business owners, those needs evolved as my business needs changed. I am completely clueless when it comes to anything technical, so I had no idea that the old web people were blatantly ripping me off. This only came to light after speaking to fellow solopreneurs. I asked for recommendations in a group I was in and up popped GorillaHub's name.
I reached out and spoke with Craig, one of the owners. He didn't start slating the other company, as some people are inclined to do, but with the pertinent questions he asked, it became apparent very quickly that I was paying through the nose for hosting and had a website that I really wasn't happy with. I also needed a new website building for a new business I'd started during the Big P.
GorillaHub's structured process and clear pricing strategy allowed me to see just what package I needed. Being a copywriter, I already had my content to go for my new website – I just needed a company I could trust to do the techy things and make my websites work for me, not against me! The whole process from start to finish was simply superb. Their build methods allowed me to see exactly what stage my website was at every step of the way. Communication was outstanding.
This is EXACTLY how customer service should be. I felt valued & supported throughout the entire process and now I have TWO amazing websites that are in very capable hands – Gorilla sized hands, of course!
I would recommend this company any day of the week – from established businesses to start-ups looking to get it right from the get-go.
Jo Follows-Smith

The Word Woman
Want to work with us?
If this is the sort of work you are looking for from the kind of partner you want to work with, please get in touch and we'll see how we an help.
Work with us
Argon International work with company executives and management teams to shape and deliver their transformation agendas, through a blend of business consulting and people solutions. They were looking for a reliable support partner to professionally manage their website.

Online games and electronics retailer Monster Shop came to us as they were looking for a reliable partner to help them with the next chapter in their business growth.
See Our Work