Hardworking business websites
Make yours an active tool to power growth & serve your business 24 hours a day
Is your website working to its full potential?
Websites are very often an underutilised service in your business. Here at GorillaHub, we can help turn your website into a growth machine so that it serves your business in all aspects of what you do.
Cutting costs can hinder expansion – now is the time to out-compete your competition.
We are experts in website integration and automation so talk to us about having your site do so much more. Start earning more money from your website.
From promoting your services and digital products, building awareness around your core message, and communicating what's going on to your customers to capturing leads, integrating systems, making bookings, or taking payments – the era of harder working websites is upon us.
Let's Chat
Capture leads

Deliver lead magnets to power email marketing

Integrate with your Social Media

Show reviews from Google, Tripadvisor & others

Take bookings for services or events
Talk to your CRM to reduce business admin

Use quizzes and smart forms to qualify leads

Take payments or sell online to increase revenue

Automatically share posts to Google Business

Web chat or messaging to engage with customers
"A pleasure to work with"
Carlie Qirem, Chief Operating Officer
Argon International
"What can I can say, except where have you been all my life!"
Dan Lee, Operations Director
Monster-Shop
"Dealing with the people of GorillaHub has always been pleasant, and they have always been helpful."
Jai Patel, Director
JB Foods
"The ongoing support from the team has been invaluable"
Annelize Alfredo, Head of Centre
The Sheila Ferrari Dyslexia Centre
"I felt valued & supported throughout the entire process"
Jo Follows-Smith,
The Word Woman
"I am not very tech savvy but they were able to walk me through the whole process"
Jon Brooker, Founder
ProDrummer
"Superb! From start to finish the guys keep me updated daily and changes and feedback were always a key part in the strategy"
David Burton, CEO
Total Market Solutions
"Whenever I've requested changes however small or large, the work has been carried out efficiently and professionally"
Geoff Allen, Owner
Travallen Travel
"I am so happy I chose GorillaHub for our website build and look forward to growing the website with them over the coming years"
Joe Tickner, Business Development Manager
Ascot Promotions
Customer Feedback
Our Customers
We help businesses like yours to grow
We have built and managed websites for businesses of all sizes, from startups with single-page starter sites right up to large and complex e-commerce sites with custom API integration.
Our customers can be found across the whole of the UK (and a handful even further afield)
Let's talk about how we can bring your ideas to life. If you are near Windsor, it woud be great to meet over a coffee.
See our work
What we do
We build & manage hardworking websites and understand what business owners need most from their web partner.
For many businesses without the backup of a technical team, managing a website can be time-consuming and requires a level of technical knowledge and access to marketing professionals that most small businesses don't have.
We use a transparent pricing system so that there are no unplanned costs.
Our unique processes ensure that you always know delivery times for fixing website problems and updates. This means that your business can continue to operate with complete peace of mind.
Managed Business Websites
A site to be proud of, designed to grow with you
Your website is an extension of what you do. It should fully represent you, as well as support your business as it grows.
We can help drive your business forward with a new fully-managed website plan with hosting and development support included.
Websites
Website Care Plans
Expert website management & support
Do you lack the time, skills or desire to look after your website's content, security, performance and maintenance routines?
Let our team of developers and engineers take care of it all for you
Care Plans
Logo Design
Does your brand image leave you a little flat?
Our Professional Graphic Designers will work with you to create an amazing new brand and logo for your business you can be truly proud of.
Our designers are veterans with years of commercial experience, not freshly minted design school grads, ensuring we price work correctly so you know exactly what your costs will be. Upfront, with no surprises.
Design
Digital Marketing
Put us on your team for faster growth
You have a website that looks good and helps explain what your business does but it should do much more. We can help turn it into a powerful marketing asset, promote your business and generate more leads and customers.
Digital Marketing
The GorillaHub Way
Why Trust Us?
Our Mission

Our Vision

Our Directors
We started GorillaHub to bring something missing from the web industry – customer service. We'd had sites built for our business and struggled to get even basic changes made. We'd speak to a designer who lacked development expertise or a developer who didn't understand hosting, performance or security.

We would bring together the expertise needed to build and manage amazing websites for business owners.

Our vision for GorillaHub is to continue providing beautiful and business-focused fixed-price websites, care plans and support, whilst adding more marketing and creative services to help our customers' businesses grow.

We will increase our security, performance and SEO monitoring capabilities around the clock to further reduce risks and provide business owners with valuable insights into their website and marketing effectiveness.

Craig and Graham have decades of service delivery experience honed in some of the UK's largest organisations such as Barclays, Intel, British Airways & the Royal Navy.

Keeping the machine running is the responsibility of Craig, our techy gorilla and Graham is our chief Gorilla and the driving force behind GorillaHub. Meet our Directors
About Us
Customer Spotlight
Argon International
Argon International works with executive teams to shape and deliver their companies' transformation agendas, through a blend of business consulting and people solutions.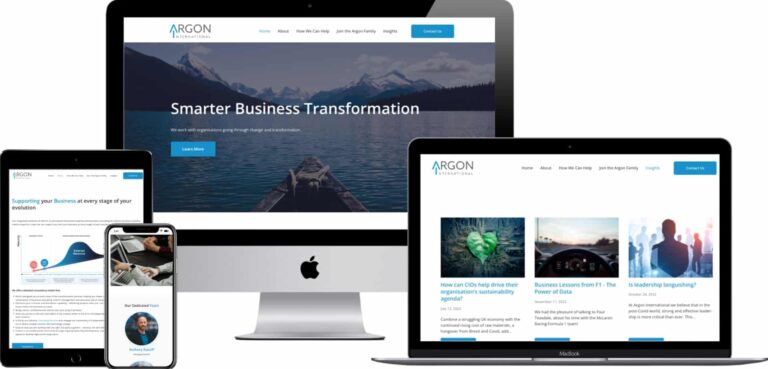 Working with Argon International
"A pleasure to work with" – Carlie Qirem, Chief Operating Officer
Learn More
How we work
We build partnerships
We work very differently from most small website agencies, typically set up to deliver only website projects.
Our ethos is to be an agency that unifies all your website and technical needs to build you a powerful asset that you can be proud of.
It is this service and ongoing support that makes GorillaHub different from the rest.
It's why we are the web partner of choice for nearly 100 UK businesses. Let's talk
How we Work
We have decades of experience in Service Delivery and have built and managed hundreds of websites so we know a thing or two about the best way to do things. You can trust in our experience when choosing your next web partner.

Security threats are ever present and the typical website can face hundreds of automated attacks a day. To help us we have invested in sophisticated monitoring systems (we even write our own WordPress monitoring checks).

Keeping your website software up to date is a key defence against hacking and we automatically monitor your website's WordPress, Theme and plugins to understand what needs updating to keep it working correctly and to fix any security vulnerabilities before hackers have a chance to exploit them.

Your Web Solutions, In One Place

By choosing GorillaHub, you get access to our team of design, technical, development, marketing and service delivery experts. This is the most cost-effective and simplest way to invest in your ket business marketing asset – your website.
Need something more?
We have years of experience building bespoke websites and services designed for larger organisations, so if you are looking for a little more, find out how partnering with us will benefit your organisation or creative agency.